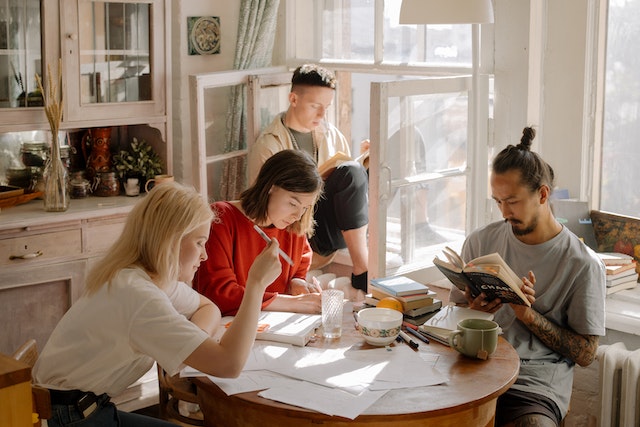 A large number of people want to become civil servants by qualifying for the civil services examination. Certain applicants are concerned that so many students from IITs, IIMs, and other prestigious institutions make it into the top list. Because of this, some questions: Can an average student crack UPSC?
IAS success tales of ordinary kids passing the UPSC test with a high rank exist. No matter how well a student has done in school or what institution he graduated from, UPSC civil services offer an equal chance to every student. There is always room for improvement, no matter what school you graduated from and what grades you earned in your degree. After all, why do you need an IAS success story? The first to accomplish anything is always possible. Did Edmund Hillary inquire whether anybody had climbed Mount Everest before him? Rather than asking for it, he took the initiative to do it, and now you can too.
Now let's see some of the points that will clear all your doubts on Can an average student crack UPSC?
Tips for IAS Students
1.   Positive Mindset and Proper Planning
To develop self-confidence, students must stay away from pessimism and welcome positive ideas in themselves. Believe that nothing is beyond their reach and everything is possible with dedication. This may be accomplished with a strong feeling of determination. So, to prepare for the IAS exam, students are encouraged to break the curriculum into sections and not to see it as a whole, according to the IAS official website. Overall, the syllabus may seem large, but it should be split into smaller modules to facilitate learning. Students must read each module with perfection and with constant focus.
2.   Good Company
An IAS aspirant must maintain a positive attitude by seeking guidance from elders, instructors, and anybody else who can help him stay motivated throughout his IAS preparation. It would be best if you talked to individuals who have gone through the IAS process before. Organize your study materials, create a daily study timetable, and determine which subjects are the most challenging for you. Please make a list of these subjects and work harder on them.
A candidate must be in a circle and atmosphere to interact with others who share his interests to be productive. There are various groups that one may join to improve their preparedness and share their experiences with others. As one of the finest platforms with seasoned professors and their constant effort to shatter this myth and demonstrate that anybody can clear the IAS Exam, The Thought Tree could be very beneficial.
3.   Success Stories
YOUR GOAL, DESIRE, and PASSION should be at the forefront of your mind as you proceed. Let's take the example of Ajay Prakash, who in his XII year chose the science stream although his preference was literature. After failing the IIT-JEE and AIEEE, his average grade in class 12 was just 78 percent. He pursued his passion for IAS and got AIR 9 in 2010, and the rest is history. Know that your school/college grades do not accurately reflect your skills as a civil services aspirant. "Academic genius" is something that comes easily to a limited number. Success, on the other hand, is dependent on your desire and persistence.
See the story of Junaid Ahmed, who has been a very ordinary student, who has become a new success story with his third place in UPSC 2019. Junaid seldom comes up with figures higher than 60%. He, on the other hand, did not have an easy time achieving this accomplishment. Vaibhav Chhabra, a Delhi resident who earned a B.Tech degree from Netaji Subhash Chandra Institute with a 56 percent grade point average, scored an AIR 32 in the UPSC 2018 exam. It is their hard work and passion that brought success.
4.   Believe In Yourself
People who succeed in the civil service or other areas of life, in my opinion, do not have any special talents or skills; they are just common folks who believed in themselves against all obstacles and succeeded despite them. Genuine interest in what you do is really important. Once you've decided what you want to achieve, you'll need to strategize for it. Your dedication and honesty must be unwavering in whatever you do! So, from the above-mentioned success stories, you can deduce that all it takes to pass UPSC Civil Services Exam is pure devotion, unwavering desire, commitment, and the appropriate direction to make your goals come true.
5.   Make a Time Table
As Edison said, there is no substitute for hard work. Begin your preparation by making a schedule. Scheduling should be for shorter periods, such as a week, so you may examine your plan once a week and make any adjustments. You can walk slowly, but you need to walk every day. Even in India, the idea of E-Learning and Online courses is becoming more popular. Scholars from all over the globe began sharing their expertise in the form of Online Magazines, Recorded Lectures, and Online Workshops as the Internet became more widely available.
Conclusion
For years, the IAS examinations were cracked by studying selectively, but today's rivalry has made this approach difficult. Proper coaching is also needed. You should select the best coaching for IAS so that you can crack the UPSC exam on the first attempt.
Also Read: Logistics UK Asks Government to Grant Temporary Visas to the EU Truck Drivers