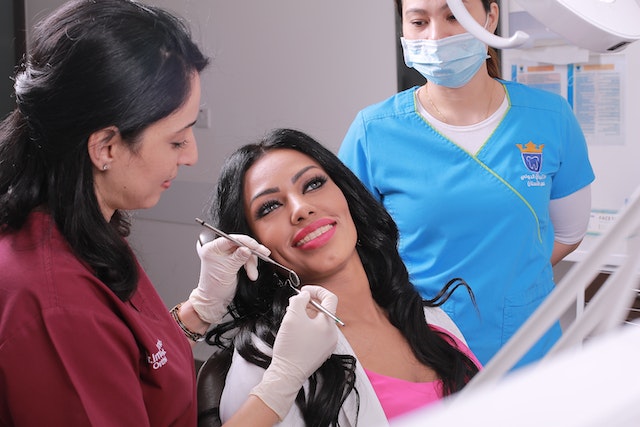 Orthodontic issues such as overcrowded teeth, misaligned teeth, underbite and overbite teeth, etc., are often prevalent amongst people. They often make us feel conscious and anxious while interacting with people or in a social gathering. Furthermore, these orthodontic issues increase the risk of oral issues such as difficulty in chewing and speaking, wear and tear of teeth, pain in the jaw, headaches, etc. Therefore, going for orthodontic care is necessary as it makes our oral health better and enhances teeth functioning.
Talking of fixing one's orthodontic issues, the first thing that pops in our head is those painful conventional metal braces. They often scare us and make us contemplate fixing our orthodontic issues. With the upgradation of technology, we now have an alternate way to transform your smile and give you a celeb-like smile that you wish for. Want to know what it is? It's invisible braces. Read this article and learn about fixing your orthodontic issues with invisible braces.
                                   What are invisible braces for the teeth?
Invisible teeth braces are an advanced way of fixing your orthodontic issues and giving you a celeb-like smile. They are custom-made set of transparent and smooth textured plastic trays, where a 3D scan of the individual's jaw is taken and then the invisible braces are prepared. Unlike traditional metal braces, which are uncomfortable and painful, invisible braces for teeth transform your smile without any pain or hassle!               
                             How do invisible braces fix your orthodontic issues?
Invisible braces fix your orthodontic issues by applying gentle pressure on your teeth to move them to the required position, thus aligning your teeth.
Invisible braces make your smile picture-ready in a systematic and comfortable way. They must be worn for at least 20 hours a day to have a speedy process in giving you a celeb-like smile.
Invisible braces for teeth have various advantages over traditional metal braces when fixing orthodontic issues. Let us see a few of them.
                Advantages of invisible braces to fix your orthodontic issues
They are super comfortable and easy to wear
One of the key features of invisible braces is that they are comfortable to the core and are easy to wear. Moreover, unlike traditional braces, which often bruise our jaws and cheeks, invisible braces are made of smooth texture and are not at all painful. They can be removed and are not completely fixed to your teeth.
They don't restrict you from enjoying your favourite food
Unlike traditional metal braces, which restrict you from eating various food items such as nuts, chewing gum, and other hard and chewy food items, invisible braces do not restrict you. With invisible braces, you can enjoy eating your favourite food without any restrictions. Amazing, right?
Your oral health is better and well-maintained
You now know how orthodontic issues negatively impact your oral health and increase the risk of plaque formation, cavities, bleeding gums, etc. With invisible braces, fix your orthodontic issues and lower the risk of such hassles in the future. While you might face a hassle in brushing and maintaining your oral health with traditional metal braces, with invisible braces, it is easier to brush and floss your teeth as they are completely removable.
Hardly visible to the naked eye
Traditional metal braces often make us conscious as they are visible to the naked eye, even from far. However, with invisible braces, one does not have to get conscious or anxious as they are hardly visible to the naked eye. With this, you can pose for that gram-worthy picture without thinking twice.
With this, let us tell you that one should go for a trusted and reputed lifestyle and healthcare brand, like toothsi. They offer the best invisible aligners and give you the ideal smile makeovers you have been looking for. You can get your ideal smile at the comfort of your home with toothsi. So, book your online video consultation and get started with fixing your orthodontic issues today!
Also Read: What are Invisible Braces for Teeth and How Do They Fix Your Orthodontic Issues?